Following the arrest of IPOB leader, Nnamdi Kanu, the Special Adviser to the former Governor of Ekiti State, Lere Olayinka, took to his verified Facebook page to express his additional reaction to the arrest.
Buhari and Lere Olayinka || Image courtesy of Google.
Trade Your Gift Cards, Bitcoin & USDT at the Best Rate
Remember that various media outlets reported today that Mazi Nnamdi Kanu, the absconding Second Leader of the Indigenous People of Biafra, had been apprehended as a result of a collaborative effort between Interpol and the Nigerian Security Services. His arrest on Sunday and subsequent extradition to Nigeria from the United Kingdom to complete his trial, which has been ongoing since 2015, was also confirmed by the Attorney General of the Federation, Abubakar Malami, on Tuesday during a Press Briefing.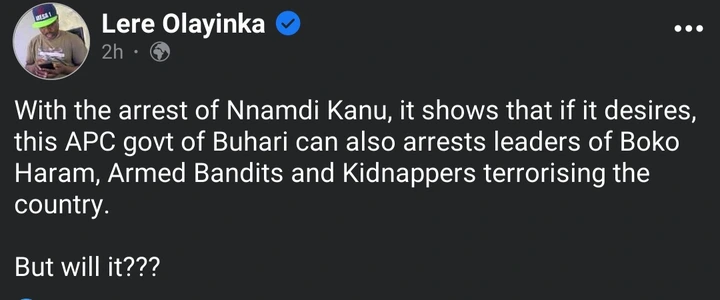 Lere Olayinka's first reaction was posted on Facebook.
The Federal Government's efforts to apprehend a man whose whereabouts had been unknown to the public for several years were praised by Lere Olayinka in a subsequent response to his arrest, which was posted on his Facebook page. In his statements, he made it clear that if the APC-led administration is committed to apprehending bandits and Boko Haram terrorists, they have the capability to do it. However, the question is if they will.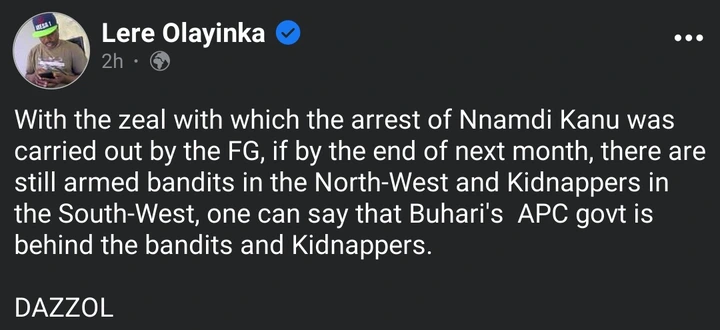 Lere Olayinka's second reaction was posted on Facebook.
On the other hand, in another Facebook post obtained by our correspondent, Lere Olayinka claims that, given the zeal with which the Federal Government apprehended Nnamdi Kanu, if there are still Bandits in the Northwest and Kidnappers in the Southwest by the end of next month, it indicates that the APC-led administration supports their activities.
Do you agree with what I've said? Please let us know what you think in the comment area below.
Your comment and opinion are welcome .
Follow us to get more news update from us .
Stay safe and remain blessed .