The Federal Government has declared Wednesday and Thursday as public holidays to mark the 2021 Eid-ul-Fitr celebration.
The Minister of Interior, Ogbeni Rauf Aregbesola, made the declaration on behalf of the Federal Government on Monday.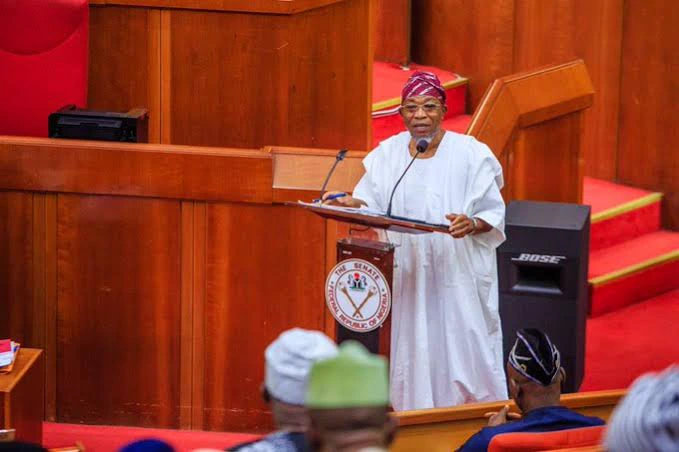 A statement by the Permanent Secretary of the Ministry of Interior, Dr. Shuaib Belgore, quoted Aregbesola as congratulating the Muslim faithful on the occasion.
He also called "all Nigerians, at home and abroad to use the period of this year's Eidul-Fitr celebration to pray for peace, stability and economic transformation in the land".
Mixed Reaction On Twitter
FATIMAHSun with faceSmiling face with heart-shaped eyesWoman dancingSunflowerWilted flower@teewardarah
Friday nko
Oluwatosin@simpleteewai
Lol. Declare that on Ur own. Face with tears of joy
OMOTAYO Of Lagos Collision symbol@Tee_Classiquem1
Aregbesola is receiving billions every month by just announcing public holiday on national TV
Heart with ribbonFizicEarth globe europe-africa@Fizich001
Lobatan… Minister of interior Face with tears of joy
Bayde_7@Baydeofficial
Ur own duty is to declare public holidays smh
Oludare Moses Morenikeji@moses_moreni
One of the responsibilities of his ministry
Chef deolaWoman cook@Wealth1dd
Include Friday ijn
BROTHER Flag of Yemen@WilliamsLifeee
You can decide to rest on Friday
jprecyHibiscus@jprecy1
What of Friday
Mr Gee.@PROFOGAR
Don't be lazy princess. Pls, go to the office on Friday. Smirking face
DJ Hazan@DeeJayHazan
We Party From Wednesday To Sunday ….
EID MUBARAK
Taiwo Ife Adebola@debolaglobal
I honestly think this should be reviewed, which one is Wednesday and Thursday is Friday a joke to this people
Olami@Olami_33
Abeg include Friday na Mr Rauf
itz hilary@HilaryItz
Be like wetin the guy be the federal government sef…. cos na him I Dey always see for all the announcements for the federal government
Omekaenyi NwanyiRaisedfist#Nonyelumfashion
everything about this government is crazy. Wed/thurs???? so what wI'll happen on friday.
chidiebere Wisdom@wizzyking77
.not important please what is all this holiday for nawa
Stgeraldclothstore@chimaeze78
This holiday is meant to be Thursday and Friday. Please check your calendar
MR. Ikman5@Ikman5
Minister for Public Holiday…please include Friday edaku!
Danny@GHUDFADA
Oga we go help you add Friday oo e be like say you forget to mention Friday ni
Maduka Glory@GloryMaduka
Ohoo it should be been Thursday and Friday nawPensive facePensive face
Blade Hocho@Ame_lycan
Almost the entire week is public holiday. Starting from tomorrow