President Buhari's tweet thanking people who campaigned for him on social media has finally surfaced online. Nigerians brought out the tweet some few hours after Buhari's government banned Twitter in Nigeria.
Buhari, after winning the 2015 elections, took to Twitter to thank Nigerians who helped him campaigned online.
He wrote, "I thank those who passionately carried the campaign on social media. I belong to everybody. I belong to nobody #NewNigeria"
Trade Your Gift Cards, Bitcoin & USDT at the Best Rate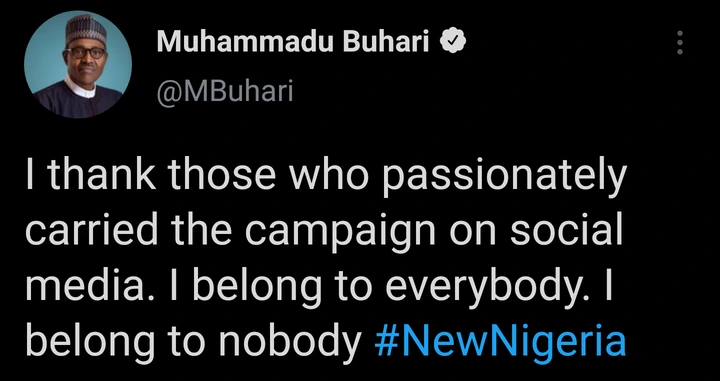 No doubt, social media have played a major role during Buhari's campaign when he was aspiring to become the president of Nigeria in 2015. Buhari won the elections but turned his back against social media after he was declared the president.
Recently, president Buhari's administration banned Twitter in Nigeria after the social media deleted his tweet. His tweet was deleted because Nigerians reported the tweet, claiming it was a genocidal tweet.
Last year, many people were arrested during the Endsars protest because of their active participation on Twitter and physical protest.