A Valedictorian is the student with the highest academic standing among their graduating class, or the best graduating student.
It takes a lot of hardwork to graduate with a good result in Nigerian Universities, much less the best result in your department.
Getting the best result is no small feat, so the best graduating students are usually given prizes that will help encourage them.
But, that wasn't the case with UNN's (University of Nigeria Nsukka) best graduating students.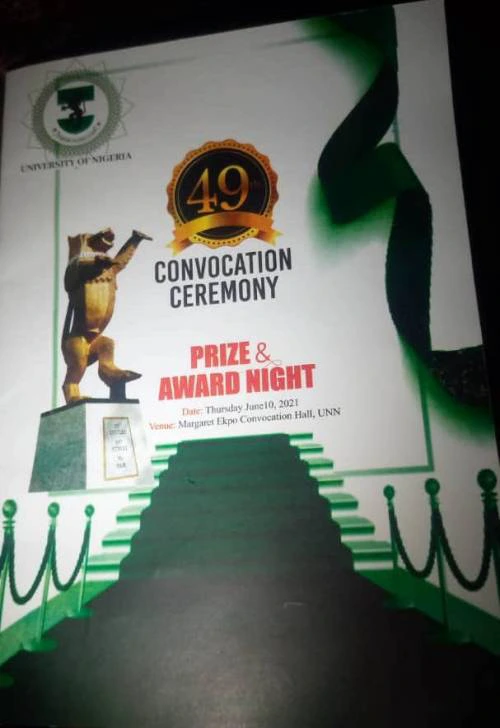 UNN's 49th convocation ceremony was held on Thursday 10th of june and both parents and visitors were disappointed to see some of the best brains in the University being given beggarly sums of N1,000 and N1,500 as prizes.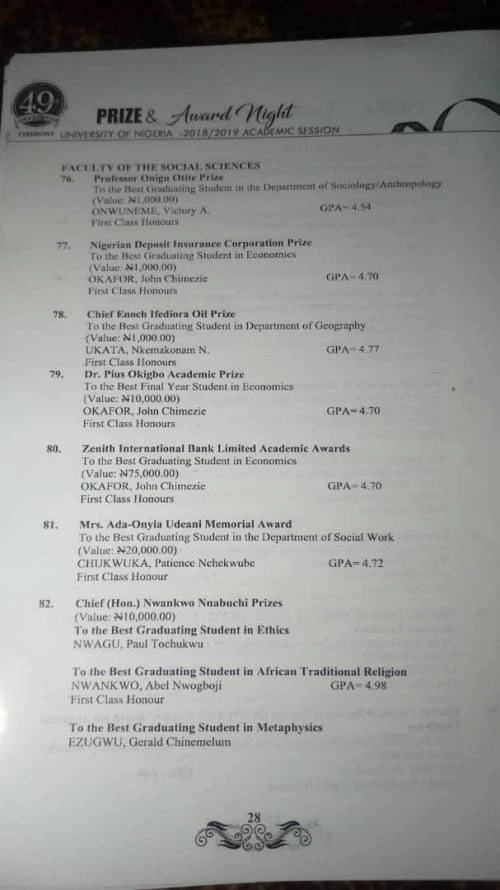 To add insult to injury, two students who emerged as best graduating students in Banking/Finance and were given N1,000 to share between themselves.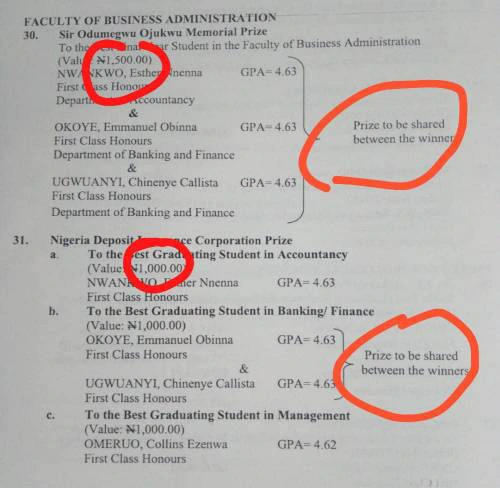 N1,000 (divided by two) is definitely a paltry sum for the people who graduated as the best in their department when you consider the amount of stress, money and hard work it took for them to be able to achieve their results.
This is not the first time the best graduating students in Nigerian Universities have gone home with nothing much, except their high GP.
– in 2018, two of the best graduating students in EKSU (Ekiti State University) were awarded N100 and N2,000 respectively
.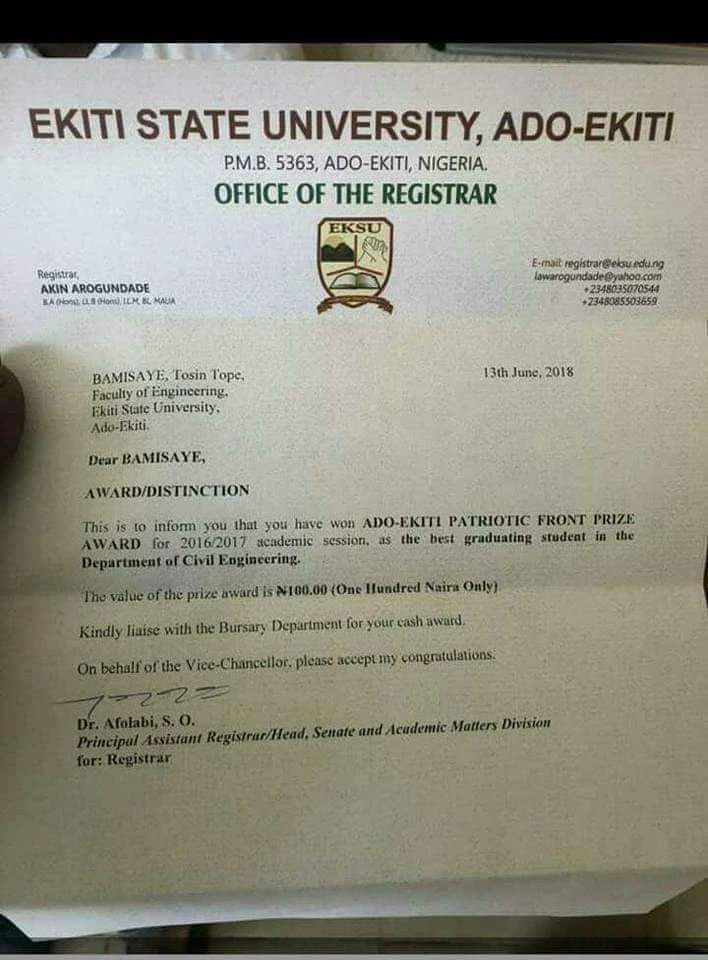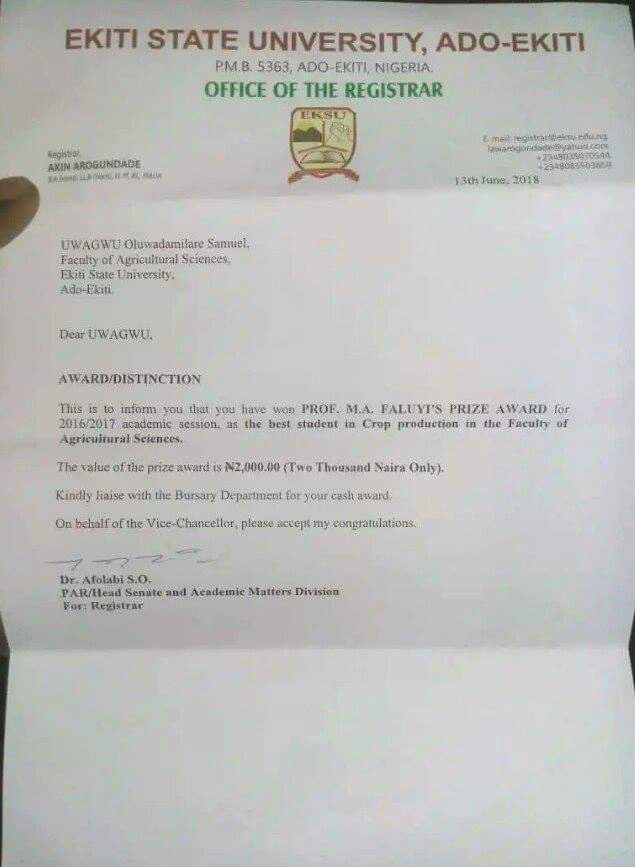 The school even followed it up with an appropriate letter which says that it's a University that aims to produce "graduates adequately equipped to handle contemporary socio-economic and environmental challenges."
Despite everything, one of the prize winners was able to rise up from his "environmental challenges" and achieve success in life, even though it's in an entirely different field from what he studied. Bamisaye Tosin Tope, The best graduating student in civil engineering who got the N100 prize, took to photography immediately after he graduated and was able to open his start his own company "Bamstech Photography," and buy himself a new car.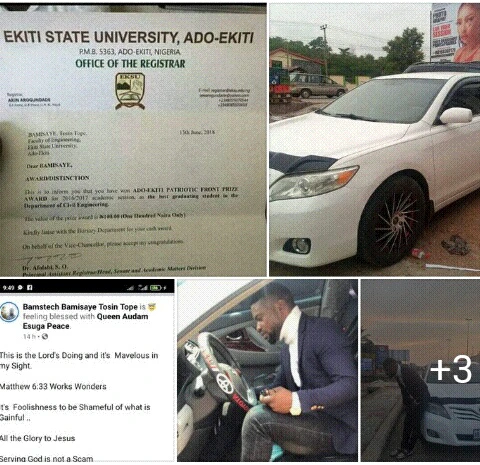 – in the same EKSU, Oluwole Stephen, the best graduating student in the Computer Department's class of 2017 was awarded with N2,000 for his performance.
On his graduation day, everything was going well for him till he looked through his letter and saw N1,000 as a reward for his efforts.
He got N1,000 from the Dean of his Faculty and N1,000 from NASS (National Association of Science Students) bringing the total sum to N2,000.
The saddest thing about his story is the fact that the N2,000 didn't even make it into his pockets so he was left with nothing.
–
in 2016, Hikmat Ibrahim Buruji graduated as the best student of Arabic and Islamic studies in the University of Ibadan and was rewarded with the prize of N2,000 to help her in her professional journey.
She ended up leaving the money since her real prize was the first-class certificate she got, not the biscuit money she was given.
The way these Valedictorians were treated might give them the impression that hardwork is no longer valued in this country. Participants and runner-ups in secular shows like BBnaija and Nigerian idol get more prizes and recognition for just participating in the show, much less winning.
If their fans and supporters deem that they weren't adequately rewarded, they contribute and give them cars, money, houses and other rewards out of their own pockets, but as a first class graduate in Nigeria, the only prize you can be sure of is your Certificate.
But, when everything's said and done, the most important thing is to be proud of yourself for being able to beat the odds and come out at the top of your class despite all the obstacles you faced as a Nigerian student.