Former Senator of the National Assembly, Senator Shehu Sani has taken to his verified Twitter handle to inform Nigerians about the secret going on at the Federal level.
Image Source: Google.
For the past few weeks, there has been series of unfortunate happenings such as Kidnappings, killings, Herdsmen crisis, and so on in the Country. To put an end to this, the Federal Government has left no stone unturned but it seems Nigerians have let go of their hopes in the current Administration.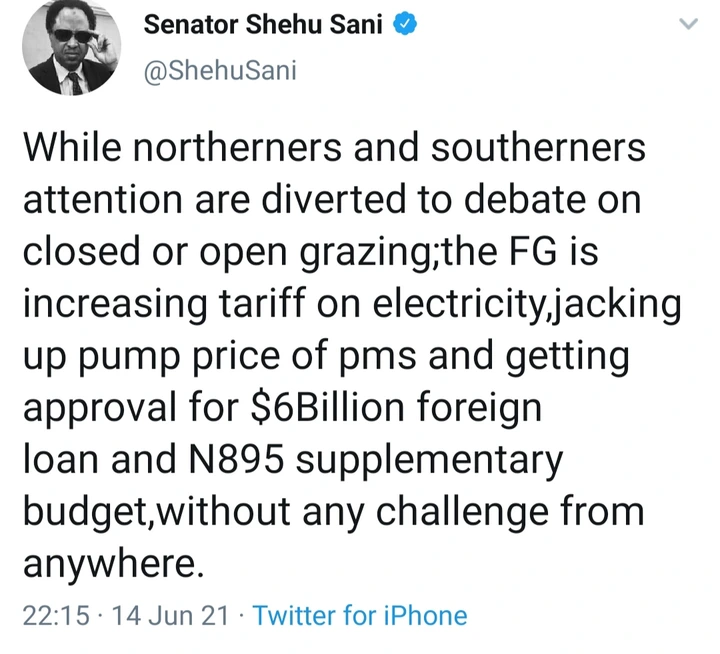 Tweet from Shehu Sani.
While addressing social media users, Former Senator Shehu Sani made it known that while the Presidency are trying to divert the attention of both Southerners and Northerners to the issue of open grazing, the FG is increasing electricity tariff, jacking up the pump price of PMS, and getting approval for $6Billion foreign loan and N895 supplementary budget without any challenge from anywhere.
While reacting to this, some social media users took to their handles to express how their thoughts.
@Godo990 said:
"if you can't make a difference as a senator, what difference do you think we can make?"
@chiukwujioke stated:
"Who will challenge them? When the House of rep and Senators do nothing other than collect their cake. We voted for people to represent us, yet they all failed woefully."
What do you have to say to this? Kindly drop your thoughts in the comment section. Also, follow this page for more up-to-date information.
Source: Twitter.