A 39-year old man, indigene of Ikoyi and Apomu, Kabiru Oyeduntan has disclosed the reason he killed a lady in Apomu, Isokan Local Government Area of Osun State. He made it known to the public after being arrested by the police in Osun State
According to Kabiru Oyeduntan, his friend brought a girl to his house to make advances on her, so he opted to wait outside, but when he returned, he discovered his friend attempting to murder the girl.
Photo of Kabiru Oyeduntan:
Trade Your Gift Cards, Bitcoin & USDT at the Best Rate
PHOTO CREDIT: 'Punch Newspapers'.
Kabiru Oyeduntan claims that doesn't have any intention of killing her, so he wanted to flee, but his friend persuaded him to stay and help him. Kabiru Oyeduntan further reveals that he was promised N50K, but he is not relying on it because he knows that his friend can't fulfill the promise.
"I didn't kill her…, but I helped him to hold the girl's legs when he killed her…, I am a bricklayer and I also work as a nightguard." – Kabiru Oyeduntan expressed himself.
Screenshot of report from 'Punch Newspapers':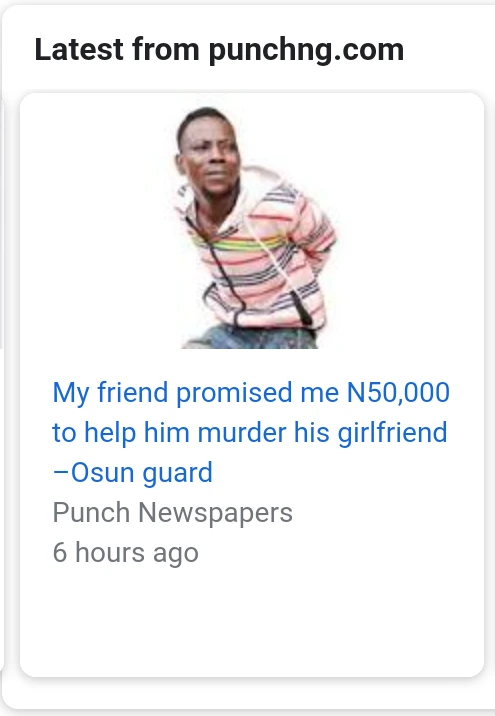 PHOTO CREDIT: 'Punch Newspapers'.
At the time of filling the report, the police in Osun State were looking for Kabiru Oyeduntan's friend, who had fled after commiting the crime.
NEWS SOURCE: 'Punch Newspapers'.
What's your take on this?
Be free to make comment below.