A man has divorced his wife after 24 years of marriage and has remarried another woman in Nigeria
This was revealed by a Twitter user identified as Maryam Suleiman Jaji and used the ID @JajiMS_ and according to her, her aunt who has been dumped by her husband have nine children with him and ended their marriage because of plans to marry another woman.
According to Maryam Suleiman, her aunt's husband stopped her from school, family planning, working and everything and now, after their divorce, she has no source of income to feed her kids.
See screenshot below;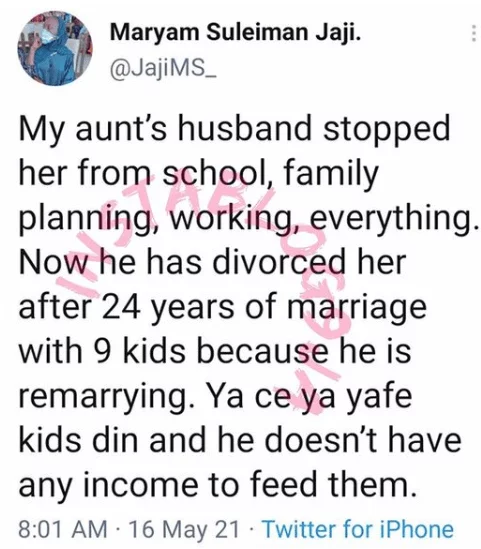 The story has stirred an uproar on social media and below are a few of them
@seundreams
Know the difference btw who to cut off & who to be patience with is so important
@itz_angeleluna
She allowed him to break her. Dear women, don't give any man the privilege to reduce you to this point .
@monalisa_joseph
Please women never stop living your life for a man. Even if he has it all and he tells you not to hustle please do not heed. Hustle, make your own money and get your own coin… No one knows what tomorrow brings
@mz_juleethe
Girls that always pray for their man forgetting to pray for themselves left the group chat
@sisi_riyike
He is definitely getting married to the kind of woman he asked his wife not to become
@i.tobiloba
My women must either level up with me or go beyond. It will make life easy for both.