The death of the founder and general overseer of the Synagogue Church Prophet T. B Joshua has remained a mystery to many Nigerians and his members worldwide.
Prophet T. B Joshua is a televangelist who used his calling to reach out to many people who don't know Christ via his TV station Emmanuel TV. The news of his demise came when Nigeria needed him the most.
The country has been set into mourning as condolences are coming in from different parts of the world.
It was reported that the prophet was sick before his demise, however, it was added that he conducted or led a program the evening before his demise.
Reacting to his death, the members of the synagogue church gathered at the sealed church of the late prophet clamouring for the gate to be opened, claiming that their father is not dead, he is only taking a short nap and will rise again. Below is their statement according to SAHARA REPORTERS.
"TB Joshua Is Not Dead, Our Prophet Is Only Taking A Short Nap"—Members Insist, Claim He Will Rise Again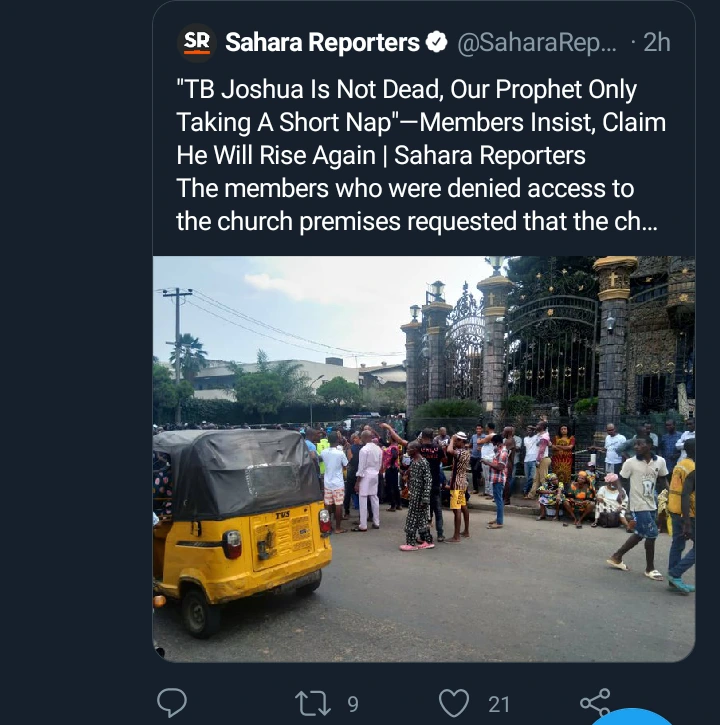 Reacting to Sahara reporters tweet, people call on the members to believe in the death and note that everyone will die. Some people reacted and supported their claims, while others were against it. Below is a screenshot of their reactions.