Former Imo State governor and the incumbent senator representing Imo west senatorial district, senator Rooch Okorocha said the new Nigeria, which will look after the interests of all regions where peace and justice are guaranteed, is achieved by enthroning a people-centered leadership.
FOR YOU:  I Need a Man to Start My Life With, I Will Be Paying Him Over ₦1million Every Week – Lady Who Is a Nurse in UK Says
Okorocha urged Nigerians not to give up hope but to remain strong and committed to a united country adding that the country' s sleep capacity will be revitalized for the benefit of society under the new Nigeria.
Okorocha made this statement while speaking to selected journalists in Abuja, to mark Labor Day celebrations this year.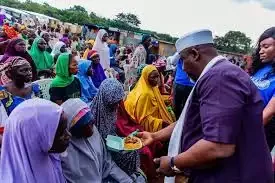 He said what the country is currently facing in terms of insecurity, hunger, poverty, and unemployment can be overcome when Nigerians are encouraged to believe in their jobs.
According to him, Nigerian workers have sacrificed and continue to make great sacrifices in building a prosperous country, but they will still reap the same benefits.
However, he urged staff to continue to show a spirit of nationalism, by putting national unity and stability first.
Rochas stated; " We must look forward to a new Nigeria where everyone will be accommodated regardless of religion, race, and social status, Nigeria will put the people first, where workers will be proud to work for their country.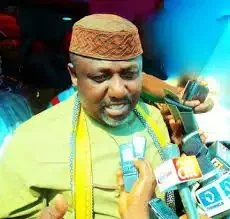 " We can achieve this if we all remain resolute and committed to the goals of a united Nigeria.
" I salute the stubbornness of the Nigerian workers who continued to sacrifice without being paid. We must all be driven and motivated by patriotic fervor and the belief that a New Nigeria is about to be born" .
The Senator also came up with solutions on how to deal with growing uncertainty across the country. It mandated the government to involve all regions in finding a lasting solution to the security challenges.
FOR YOU:  SO BAD: See What This Man Was Caught Doing Online With The Help Of CCTV Camera
Okorocha said that although the government and security personnel, especially the Nigerian Armed Forces, were making great sacrifices to restore peace, the people needed to be in one place.
He added that injustice was part of the long- running causes of insecurity and divisive violence, stressing that until all issues of discrimination against Nigerians were resolved, they will be no progress on this fight.
His statement read; " Nigeria can overcome the security challenges that exist very quickly and vigorously if all regions of the country a determined.
" The people we call robbers, terrorists, kidnappers, and other criminals live among the people, protected and treated as heroes and protectors because people feel abandoned by the government.
FOR YOU:  See What My Fulani Grandmother Told Me About The lgbos And Yoruba That Made Me Shed Tears (Photos)
" But if this practice is reversed, if every Nigerian is given a sense of belonging, the spirit of nationalism will spread to everyone and they will stand with the government" .