Education is not just a mere chant, if you can't imbibe in its values, you will have to exclude yourself from it's positive effect. Dear students, learn from the true life story am about to share with you.
Cynthia has been my cousin sister ever since I was able to understand what family is all about. She was not just beautiful but very intelligent.
After her secondary school education, Cynthia had to write Jamb and await her admission. While in secondary school, she was always best in class both in attitude and academically. Her reports were always filled with intense excellent reactions from her teachers. Cynthia didn't go to the best schools in Enugu, but she was amongst the best student the state harbours.
Her countless trophies after school and states competition made her fit for the senior prefect position. Sitting for SSCE was a whole lot of trauma for Cynthia because that's when her father died but she actually had every courage to sit for the examination and she passed it. Her result were very excellent although not so great as she expected.
In the year 2011, a year after her SSCE which was in 2010, Cynthia sat for UTME conducted by Jamb. At least by then, she had gotten rid of some emotional depression due to the death of her father.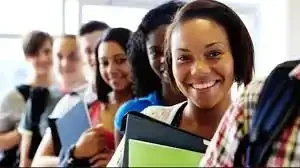 Her Jamb score was quite excellent yet she wasn't granted admission into the university of Nigeria Nsukka where is applied to study law. Due to her courage and competence, she still decided to wait for 2012 Jamb UTME. That year, she screwed every form of failure and made an excellent score yet UNN never looked at her neither was she considered. She was still persistent about her choosen course especially when all her friends got admitted the previous year.
Her mother made a clarion call and beckoned her to change institution. "It isn't all about the school you attended or the course you read instead it's about the value you acquired as you bid farewell to the university." She tallied with her mother's advise and decided to enroll into Institute of Management and Technology(IMT) Enugu.
Although she was not happy performing below expectations as everyone was looking forward to the lawyer that will emerge with a first class honour from University of Nigeria, Nsukka.
Much to everyone's chagrin, she stoop for the course most people considers as less important.
After she graduated from IMT with first class in economics, she had already decided to join her mother's business and raise money to advance to law if the opportunity is still there for her. Most of her friends made mockery of the course, "you can only become a teacher or at most a lecturer with that course."
On the day of graduating, she received different gifts from friends and loved ones. But one gift changed her life.
Her lecturer gave her a slim envelope which she taught was money but it wasn't. It was a mail from a leading company in Germany. They wanted an economist and the lecturer recommended Cynthia.
But that wasn't a guarantee because she ought to sit for the review examination and the interview at Lagos State, Nigeria. She was best both at the interview and at the examination. As part of the agreement, Cynthia had to travel to Germany to work for the company that employed her.
Her competence made her attain great height in the company in the space of two years. Cynthia graduated in 2016 but at 2018, she already built an edifice at her father's home and her two younger siblings were attending the best schools. The assests she had was great, just by having a degree in economics.
Where are her mocking friends who thought she will end up a teacher?
The Bible says, whatsoever your hand finds doing, do it with your heart. Most students decline the opportunity to achieve their dreams because they were interested in the leading course. They want to be addressed as doctors, lawyers or an engineer. This is not to discourage those going for the course, instead I want to use this medium to exhort those students who are yet to get the desired course; no course is useless. It's all about who us studying it, the plans the person has towards the course and how committed you are to the course.
Everything is readily impactful, it's just for you to discover the undiscovered.
Take to the comment section to tell us your own story. Did you get the course you verged for or were you unable to get admitted to your choice of school?
Like and share to others. The school you attend don't in any way determine your destiny or success of your career, just ensure you were devoted to your studies and you will love to be a testimony to others just like Cynthia.