It's no longer news that the candidate of the Peoples Democratic Party (PDP) and the incumbent governor of Edo State, His Excellency, Governor Godwin Obaseki defeated his main challenger who contested under the All Progressive Congress in the September 19th gubernatorial election in Edo State.
Picture Showing The Two Front-runners In The Edo State Gubernatorial Election:
The election which saw a large number of the electorates troop out to exercise their franchise saw Godwin Obaseki defeat his closest and main challenger, Pastor Ize Iyamu with 307,955 to 223,619 votes and ensuring that he stays at the helm of affairs of Edo State for the next four years.
The election had been seen as the election which could be a big indicator of what to expect in the 2023 general election and it was also seen as the one that could finally usher in another era of power shift from one political party and ideology to another and with the victory of PDP in this election, then it's fair to say 2023 would be an interesting year.
Picture of Asiwaju Bola Ahmed Tinubu:
One APC chieftain who many have tipped to contest for the post of the highest office in Nigeria during the 2023 general election is former Lagos State governor, Asiwaju Ahmed Bola Tinubu. In fact, in some quarters, many feel the post is his to lose considering the political power and influence he wields.
But with the way Edo gubernatorial election went and the APC's dismal performance, what implication does it have on Tinubu's ambition for the presidency in 2023? Below are 3 possible effects APC'S defeat would have on Jagaban's 2023 ambition:
1. His Influence Is Waning And He Is Not As Invincible As He Seems:
A popular belief held by many Nigerians who are politically-savvy is that Asiwaju is one of the major kingmakers in the Nigerian political front. He wields so much power that he has something of a cult following. Obviously he is a man of means and with the ways he has always carried and conducted himself in the political spheres, it's no wonder he has many supporters across the country.
Picture Showing A Campaign Poster By One Of Asiwaju Ahmed Tinubu's Support Groups: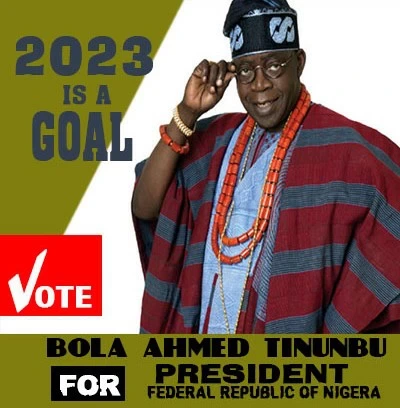 But nothing is permanent in life and if we are to judge from the 2019 general election in Lagos State where the PDP gave the APC a run for their money especially in the presidential election, then one could see that Asiwaju as he is fondly called by many of his followers, is gradually losing the influence he wields and he might have to go back to the drawing board.
2. Being a Godfather Might Not Save Him From Defeat:
In the buildup to the Edo gubernatorial election, Asiwaju was seen canvassing for votes for APC's candidate, Pastor Ize Iyamu. He was also involved in his campaigns to a certain extent but it all proved to be an exercise in futility as his preferred and anointed candidate failed miserably.
This implies that Nigerians are starting to sit up and take notice that the final say is with them and not with the political godfathers. The 'O to ge' movement in Kwara State was a huge success because the people were tired of a single man deciding who rules them and who does not.
Asiwaju Bola Ahmed Tinubu And Comrade Adams Oshiomole:
The 'Edo no be Lagos' mantra also prove to be effective in Edo State and has shown that being a godfather might not necessarily save a politician from the painful jaw of defeat especially when the people are really determined to send such a godfather a strong message.
3. He Could Lose 2023 Election To The Opposition:
The Edo gubernatorial was seen as a huge indicator of whether to expect a power shift in the Nigerian political front in 2023 or not, and if what happened in Edo State is anything to go by, then Asiwaju might be staring at a certain defeat if he contests under the All Progressive Congress in the 2023 general election.
Picture Showing The Final Result Of Edo Gubernatorial Election:
Although 2023 is still a long way and anything could happen before then, APC's outing in the 2023 general election could turn out to be a disaster if stakeholders like Asiwaju do not go back to the drawing board and chart a new way forward for their cause.
Do you agree with our analysis? Do you think Asiwaju's dynasty is coming to an end? Kindly let us know your honest opinions via the comment section and don't forget to like and share this article with others.