If you take a look at all the political seats in Nigeria, you will realize that most of them are occupied by men. Also In the history of Nigeria, there has never been a female president.
Aisha Yesufu, who appears to be offended by this, took to her official Twitter page to express her displeasure. According to her, women are not regarded as being capable of doing all the same political tasks as men are.
Trade Your Gift Cards, Bitcoin & USDT at the Best Rate
"There is a male privilege," she explained. It doesn't mean that men have it easy. 
For example, if a man decides to run for President, nobody will ever say to him that a man can never be the President of Nigeria.
No matter how competent a woman is, she will be told a woman can not be the President."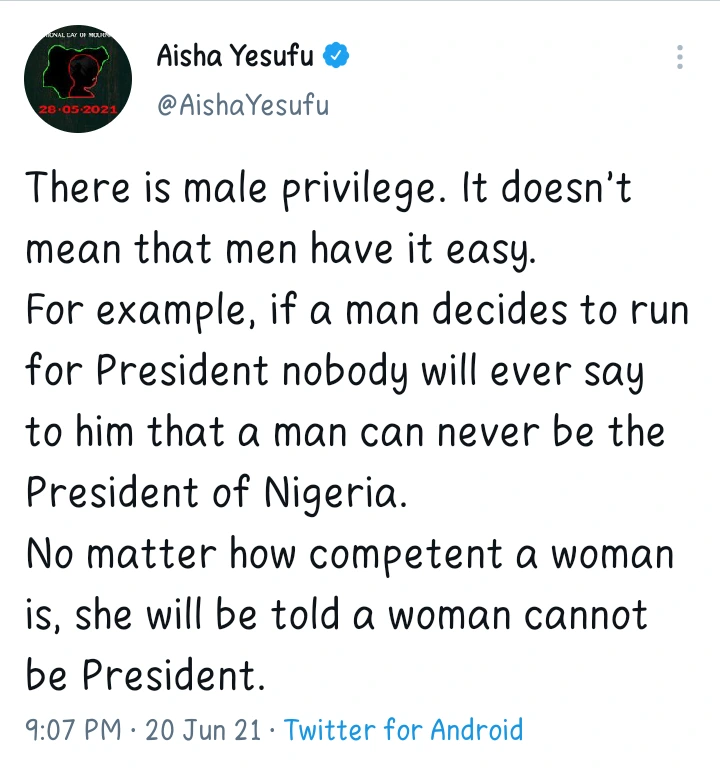 https://twitter.com/AishaYesufu/status/1406705166573780999?s=19
Ever since she made this statement on Twitter, her tweet has been generating lots of reactions from people. Check out people's comments below.