Aisha Buhari Speaks On Insecurity.
Photo Credit: Naija News
The First Lady, Aisha Buhari, on Monday charged the Federal Government to recruit more security officers to tackle the security challenges in the countryThe media of the first lady, Aliyu Abdullahi, noted that she made this call while receiving wives of service chiefs during a courtesy visit at the State House on Monday.
The statement was titled 'Aisha Buhari charges wives of service chiefs.'
The President's wife said as wives of senior public servants, they should support their husbands in realising the mandate to secure Nigeria and its citizens.
Olusegun Obasanjo Gives IOD Thumps-up.
Photo Credit: Google, this picture is used for illustration
The former President of Nigeria, Olusegun Obasanjo has given Thumbs-up to the Institute Of Directors (IOD) Nigeria for its resolve and resilience to make impact to humanity.
At a courtesy visit to the former president in Ogun State over the weekend, the President of IOD, Chris Okunowo, Flod, implored Obasanjo to do everything within his power to garner support for IOD to thrive in the country especially the South West zone.
According to a statement delivered by the South West coordinator of IOD, Adedamola Ade-Onojobi, the elder statesman commended IOD's core values represented by the acronym (IMPACT), which stands for Integrity, Meritocracy, Professionalism, Accountability, Customer Centricity and Teamwork.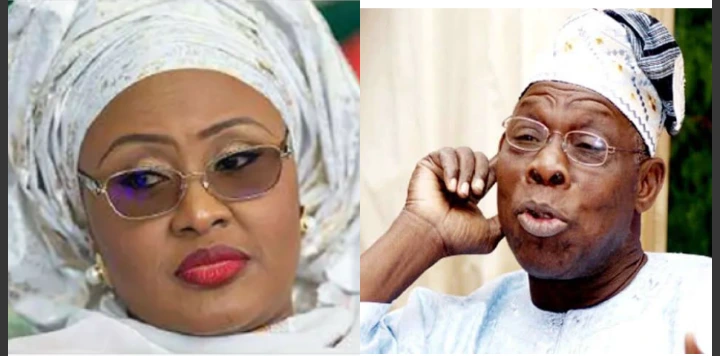 (Photo Credit: Google)
How Buhari disappointed many Nigerians – Garba Shehu.
Garba Shehu, the Senior Special Assistant to President Mohammadu Buhari on Media and Publicity, has said that some people were disappointed to have seen his principal 'real life' in interviews and broadcast last weekend.
Shehu said this when he when asked during an interview with Nigerian Television Authority, NTA, whether Buhari's interviews and speeches last week allayed the doubt of many people on whether he is in control of the government or not.
I will be active in politics beyond 2023 – Ganduje.
Despite having spent over 43 years in active politics, Kano Governor Abdullahi Ganduje on Monday hinted he would remain active after expiration of his second term in 2023.
Though he did not open up whether he is nursing ambition to contest the Kano North Senatorial seat, Ganduje said his eyes will still be widely opened for opportunities as a politician.
Ganduje spoke in Government House Kano while fielding questions from newsmen on Democracy Day celebrations.
Osinbajo: We need leaders prepared to unite Nigerians.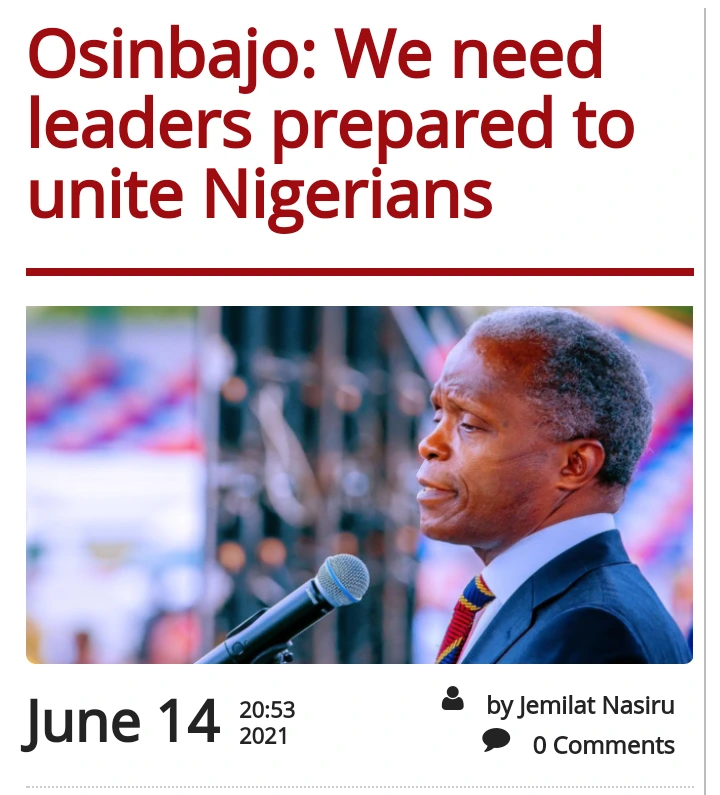 Vice-President Yemi Osinbajo says challenges affecting the country require proactive leaders who are prepared to promote unity among Nigerians.
According to a statement by Laolu Akande, his spokesman, Osinbajo stated this on Monday when he paid a courtesy visit to Abdulwasiu Lawal, Oniru of Ireland, in Lagos.
The traditional ruler is celebrating his first coronation anniversary.
Osinbajo commended Lawal for being a leader to people of diverse socio-ethnic backgrounds.
Nigeria Will Not Break Up Despite The Agitations-Hezekiah.
(Photo Credit: Daily Post Nigeria).
Recently, Prophet Hezekiah Oladeji (General Evangelist of Christ Apostolic Church) revealed that Nigeria will not break up, despite the agitations from some parts of the country.
This information came as Prophet Ade Ologbonyo urged the government and people of Nigeria to use technology and prayers as weapons against the security challenges facing the country.
Prophet Hezekiah said that the country's security situation is getting worse because the people don't abide in God and has failed to draw closer to Him.