Another Protest Begins In Lagos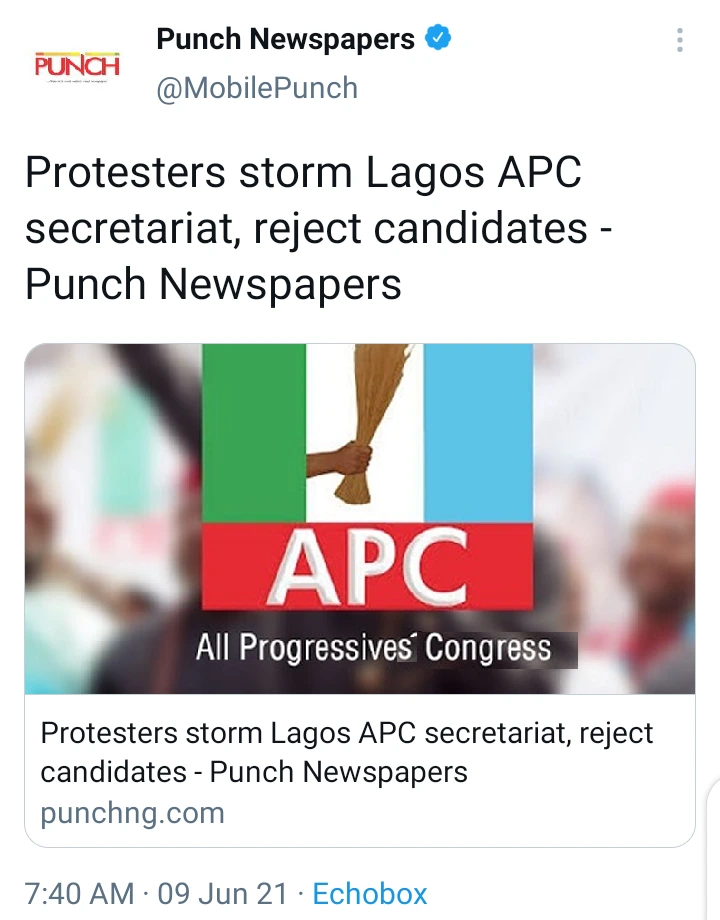 Photo Credit: Punch Newspaper
Trade Your Gift Cards, Bitcoin & USDT at the Best Rate
Protesters from the Somolu Local Government Area on Tuesday besieged the secretariat of the All Progressives Party in Lagos State to express their grievances against the list of candidates for chairman and vice chairman released by the party for the forthcoming local government election on July 24.
The protesters sang protest songs, displayed placards and wore caps and shirts of their preferred candidate, Bowale Sosimi.
An elder from the LGA, Mr Adewale Agboola said, "They should not rob us of our choice. Our leaders must do the right thing."
Photo Credit: Google
"Igbos Should Not Repeat 1967 Genocide" – Kalu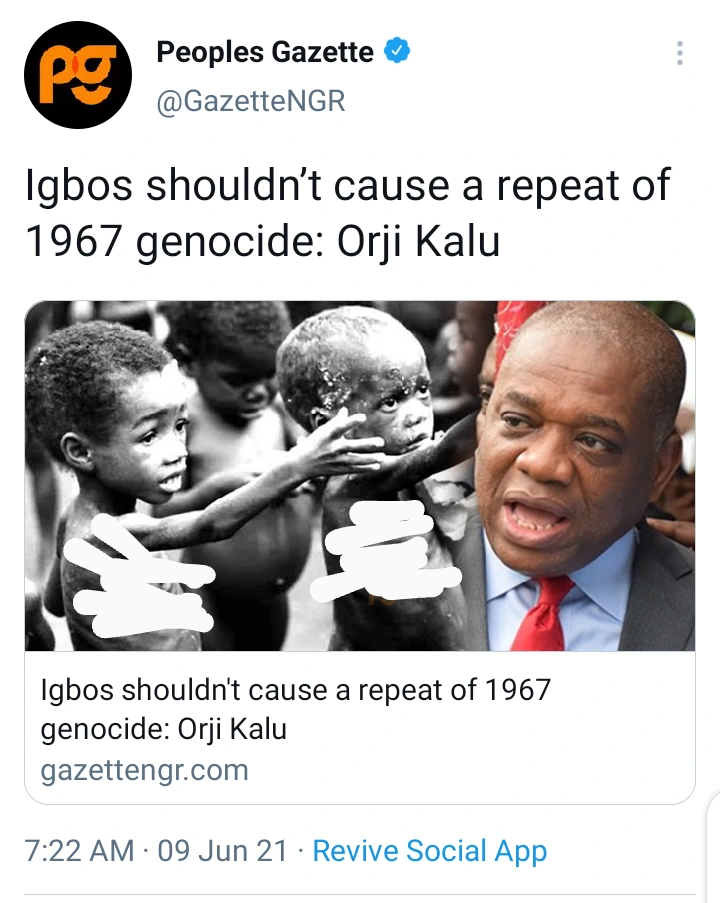 Photo Credit: Peoples Gazette
Orji Uzor Kalu has advised the Igbos in the South-East not to cause a repeat of the 1967-1970 genocidal killings in the region.
"We should not either by words or actions pursue a repetition of the 1967 horrible genocide," stated Mr Kalu, admonishing individuals sponsoring violence in the South-East to stop.
Mr Kalu, a chieftain of the ruling APC and lawmaker in the Senate, urged disgruntled Igbos to consider dialogue, warning that the Igbos should not use violence in their agitations.
Kingsley Moghalu Advises Buhari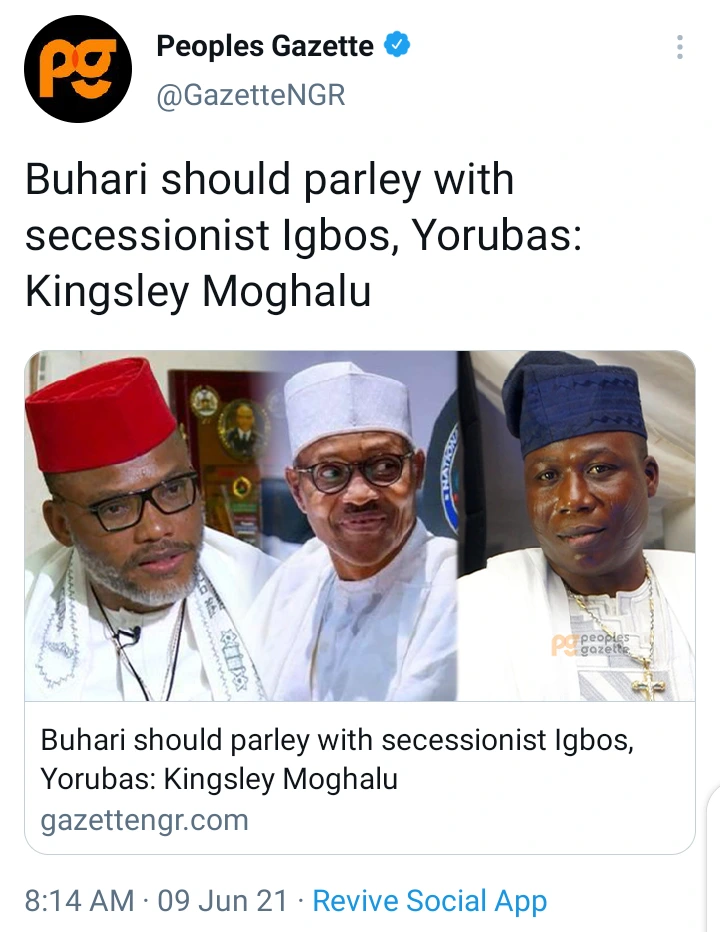 Photo Credit: Peoples Gazette
Kingley Moghalu has advised President Muhammadu Buhari to parley with secessionist Igbos and Yorubas and write a news constitution to save the country from further chaos.
He also recommended that Mr Buhari establish a truth and reconciliation committee to address current security and other challenges in the country.
Mr Moghalu, a former deputy governor of the Central Bank of Nigeria, stated this at a press conference on Tuesday in Abuja while reiterating his intention to contest the presidency in 2023.
NPC Chairman Speaks On National Census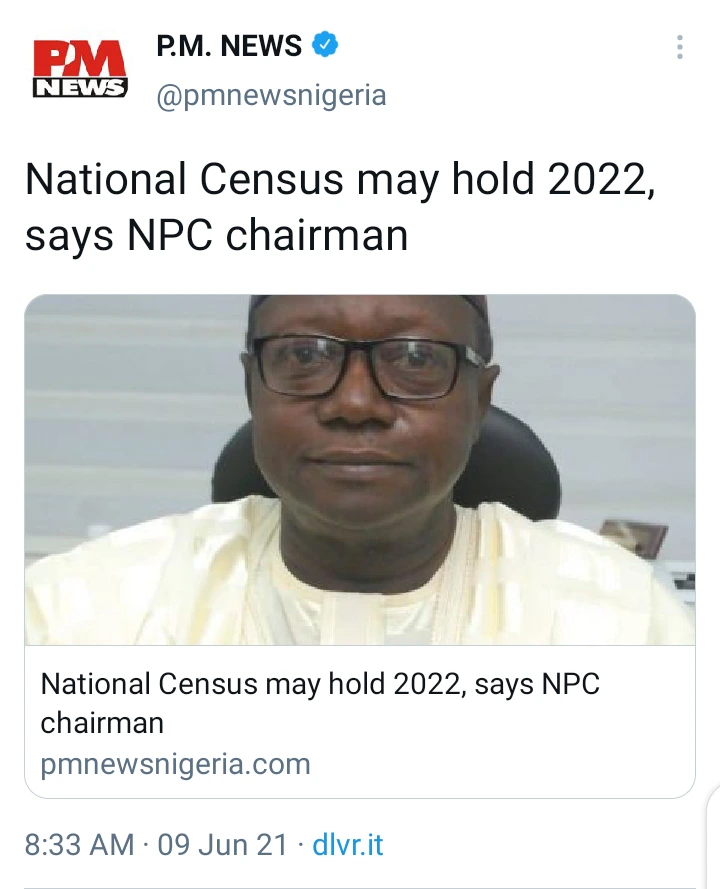 Photo Credit: PM News
The National Population Commission (NPC) has said that it may conduct another national census in 2022.
However, this is subject to the commission completing pre-census activities such as demarcation, administering questionnaire and seeking approval of the President.
NPC Federal Commissioner in Gombe State, Abubakar Danburam, revealed this on Tuesday during a press conference.
Evicted Sarkin Fulani Reacts To Igangan Killings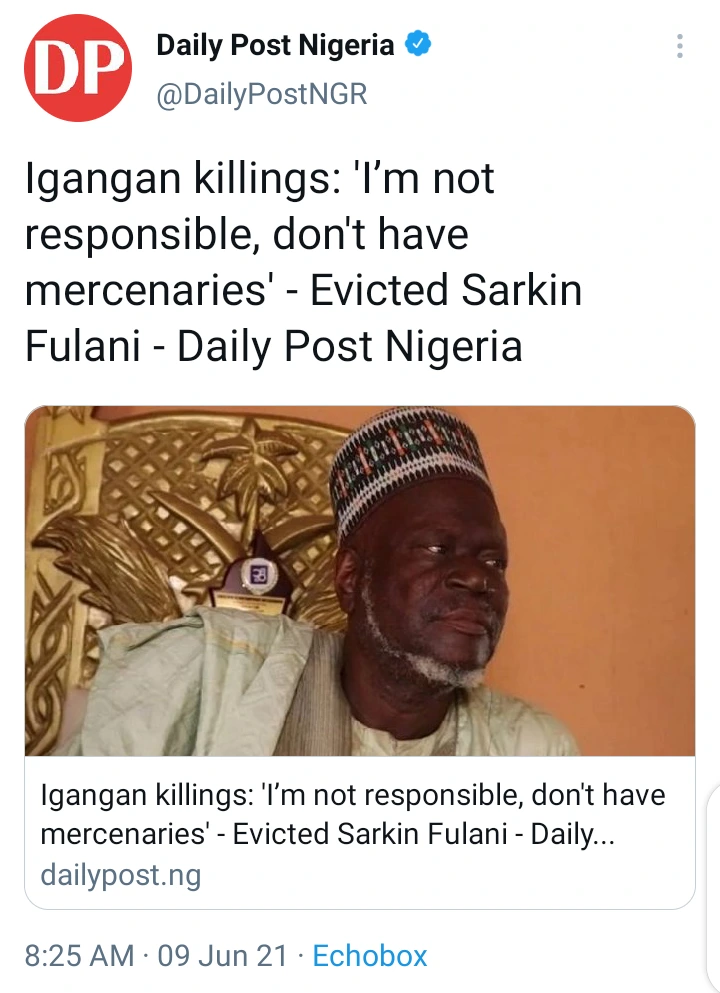 Photo Credit: Daily Post Nigeria
Evicted Sarkin Fulani of Oyo State, Alhaji Saliu Abdulkadir has distanced himself from the latest attack in Igangan area of the State.
Abdulkadir said he would have defended himself if he had the "mercenaries" when he was attacked.
He spoke in response to allegations that he masterminded Sunday's attacks which left scores of farmers killed in Igangan.
Addressing newsmen yesterday, the Sarkin Fulani urged security agencies to apprehend those behind the violent attack.