Apostle Suleman Breaks Silence On TB Joshua's Death
On Saturday, 12th of June, 2021 Christian Daily Post reported that The General Overseer of Omega Fire Ministry Apostle Johnson Suleiman has finally spoken on the death of Prophet TB Joshua.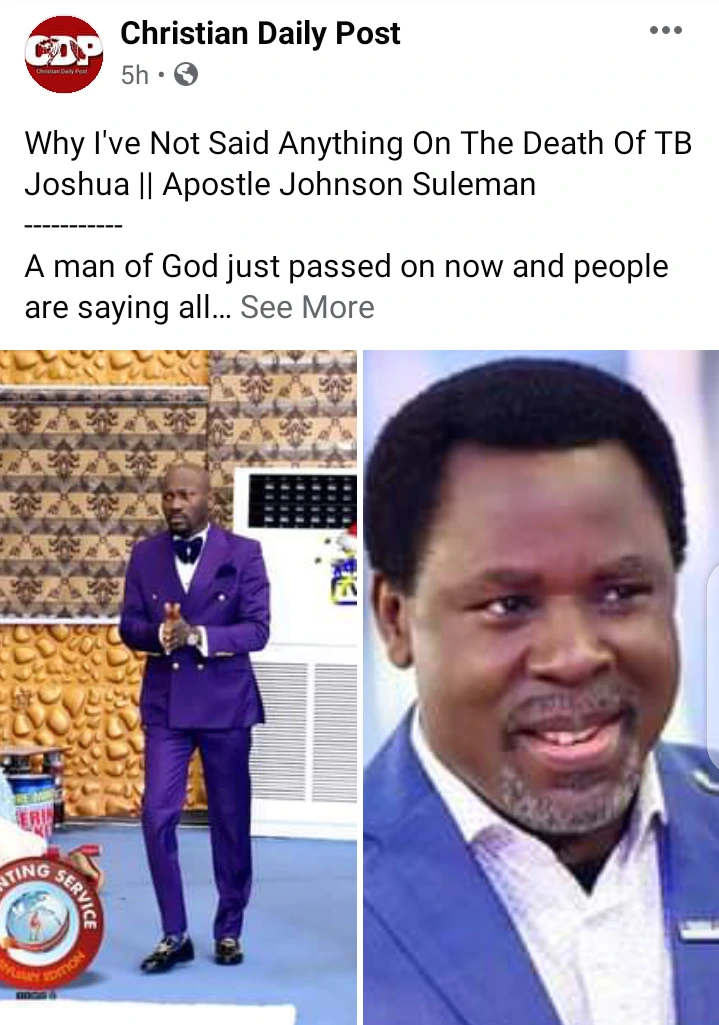 He said: "a man of God just passed on and people are saying all sorts of things and even abusing him at his death. How devilish, evil, wicked people are.
"he was not fine for two days and he was still ministering to people. Now, those people are going to move on with their life.
"I haven't said anything about him because I'm still in shock. And I have now discovered that you can't cheat nature".
Bandits Kill 93 In Zamfara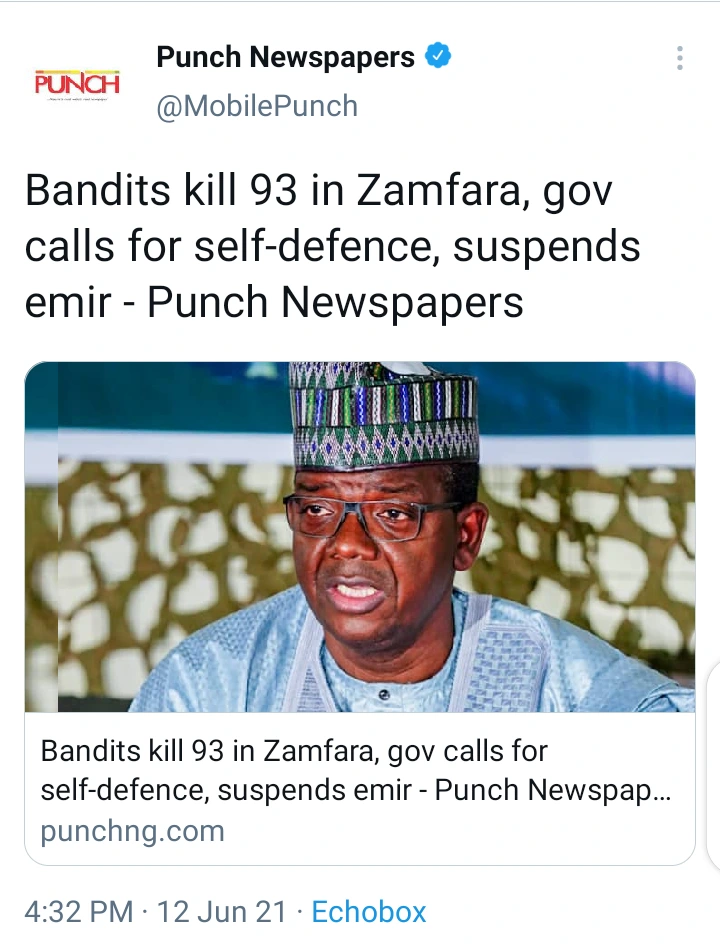 Bandits have again killed 93 people in Kadawa village of Zurmi Local Government Area of Zamfara State, while many others were severely wounded.
A local, Mallam Muhammadu Dansani, who narrowly escaped being killed, told Saturday PUNCH on the phone that the incident happened between Thursday night and Friday morning.
Dansani said the bandits, who spoke French, invaded Kadawa on motorcycles on Thursday night and shot 93 people dead. He said 67 bodies were seen in the village and 26 others outside the village after the attack.
"The bandits are non-Nigerians. They spoke French and wore long-plaited hair. Most of them were dark and short," he said.
Dansani lamented that security personnel were nowhere to be found during the hours of the attack.
Vehicles Used In Imo Attack Provide By Politicians- Uzodimma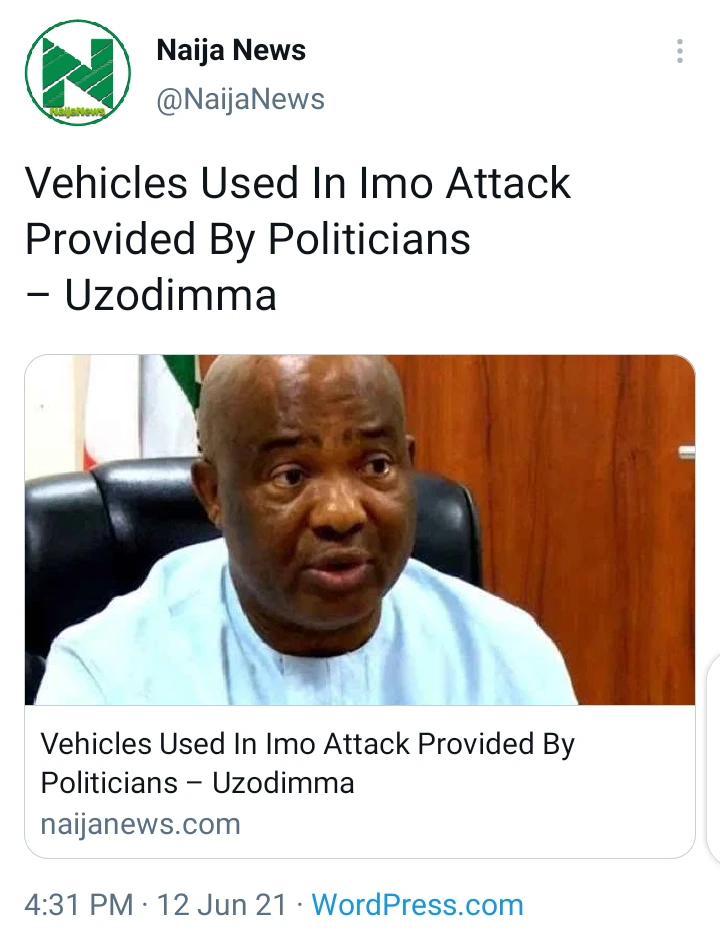 The Governor of Imo State, Hope Uzodinma, on Saturday disclosed that the Sienna used by gunmen in the attacks in the state were provided by politicians during the election.
Uzodinma further stated that he is compiling the names of the donors and would reveal it soon.
The Imo State Governor while speaking on a radio chat to mark the nation's Democracy Day, attributed the increase of attacks to escaped inmates from the April 5 attack on the Owerri custodial centre of the Imo State headquarters of the Nigerian Correctional Services (NCoS).
He, however, stated that some of the inmates are being re-arrested and sent back to the centre.
Igbos In US Call For United Nigeria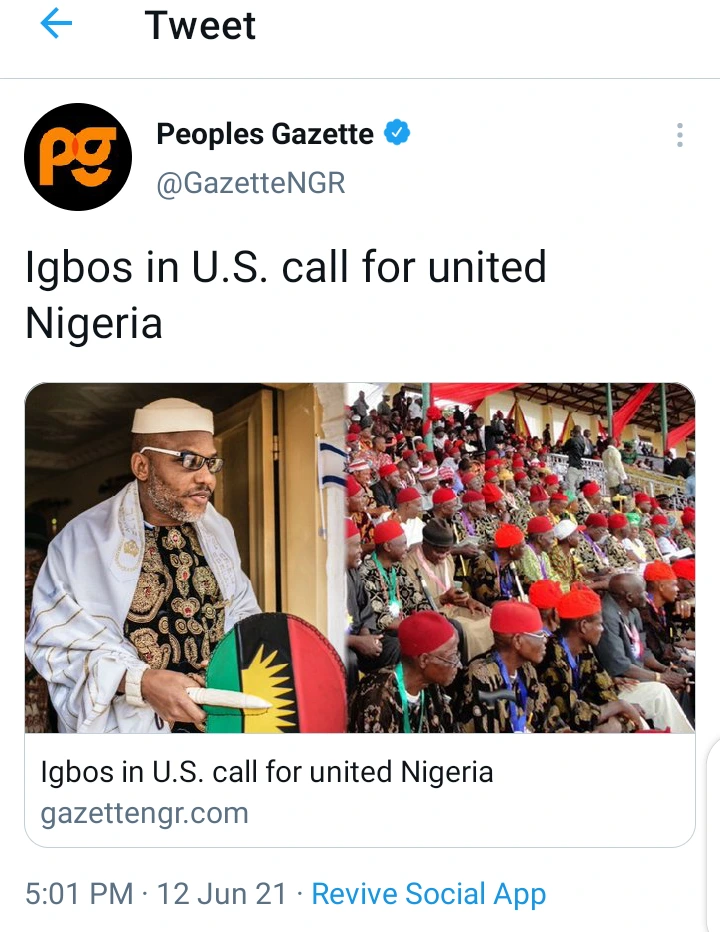 Igbos in the U.S. have called on the country's government at all levels and Nigerians to promote a united Nigeria.
Specifically, a cultural group, Igbo Organisation New York, advised Nigerian leaders to offer selfish service rather than pursue self-centred interests.
The president of the organisation, Cyprian Agwu, stated this in an interview with the News Agency of Nigeria in New York.
Agwu, who spoke against the background of June 12- Democracy Day, said the beauty of a successful democracy was in having selfless leaders.
According to him, democracy is about serving the people, and the leaders should live up to that expectation.
No Grazing Routes In Bayelsa, Diri Replies Buhari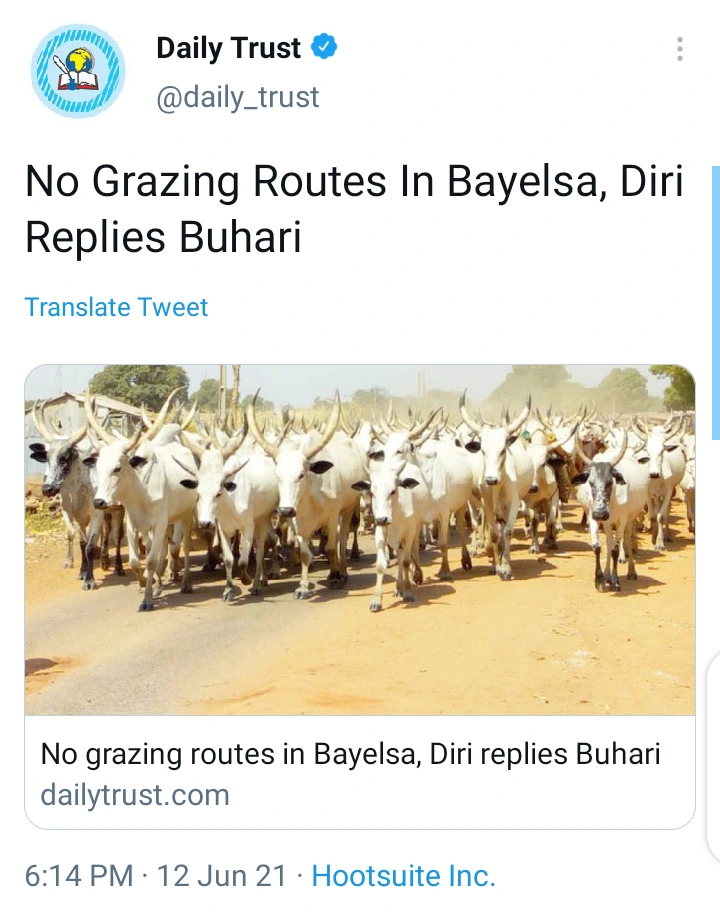 Bayelsa State governor, Senator Douye Diri, has said the state will not resuscitate any grazing route in order to check herders/farmers clashes.
Diri, who was reacting to the recent directive by President Muhammadu Buhari for states to revive cattle grazing routes across the country, explained that Bayelsa would not consider such an idea after prohibiting open grazing.
Speaking during a media chat monitored by a local radio station in Yenagoa on Saturday, the governor explained that although he was not countering the federal government's decision to resuscitate grazing routes, his administration had put in place a legal framework to ban open grazing and movement of cattle on foot.