Four Dead As Another Plane Crashes
Four people have been confirmed dead and four others critically injured on Saturday after a plane carrying parachutists crashed in Siberia, Russian authorities said.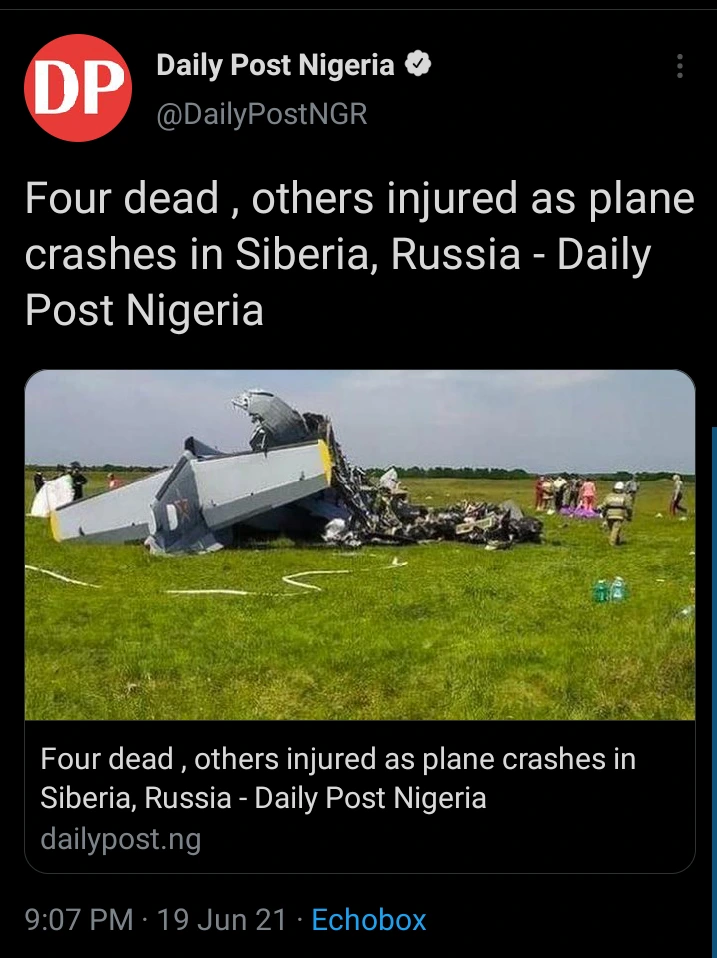 (Photo Credit: Daily Post Nigeria)
Russian authorities confirmed that the L-410 plane carrying 19 people crashed during a training flight at the Tanay airfield in the Siberian region of Kemerovo.
The TASS news agency disclosed that the crash was as as a result of the failure of one of the plane engines.
(Photo Credit: Google)
Buhari Asks African Leaders To Apply Pressure On Mali's Military Junta
President Muhammadu Buhari Saturday at the 59th ECOWAS summit in Accra called on West African leaders to pressure Mali military regime to ensure return to democracy.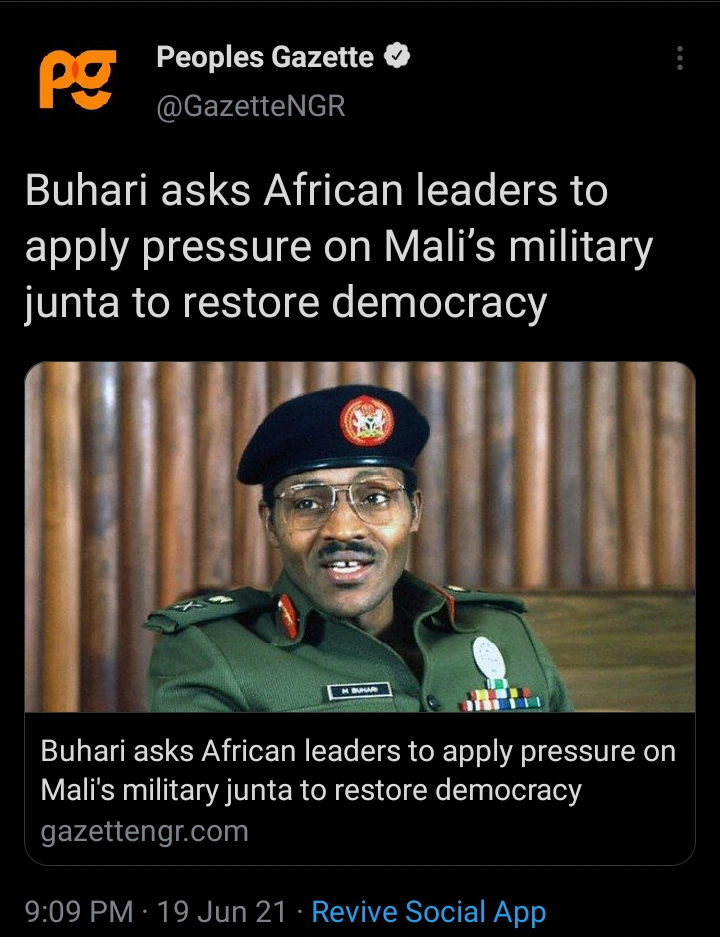 (Photo Credit: People's Gazette)
In May, Mali's president Bah Ndaw and prime minister Moctar Ouane were ousted in a coup led by Colonel Assimi Goïta.
Mr Buhari, whose regime has been pushing to erode democratic ideals by shrinking the civic space gagging the media in Nigeria, made this call at the 59th Ordinary session of the Authority of Heads of State and Government of ECOWAS held on Saturday at Accra, Ghana, presidential spokesman Garba Shehu said in a statement.
South-East Leaders Disown IPOB, Say Secessionist Group
Governors in the Southeastern part of Nigeria, under the umbrella of South East Governors' Forum have declared that members of the Indigenous People of Biafra, IPOB are not speaking for the entire region on the call for secession.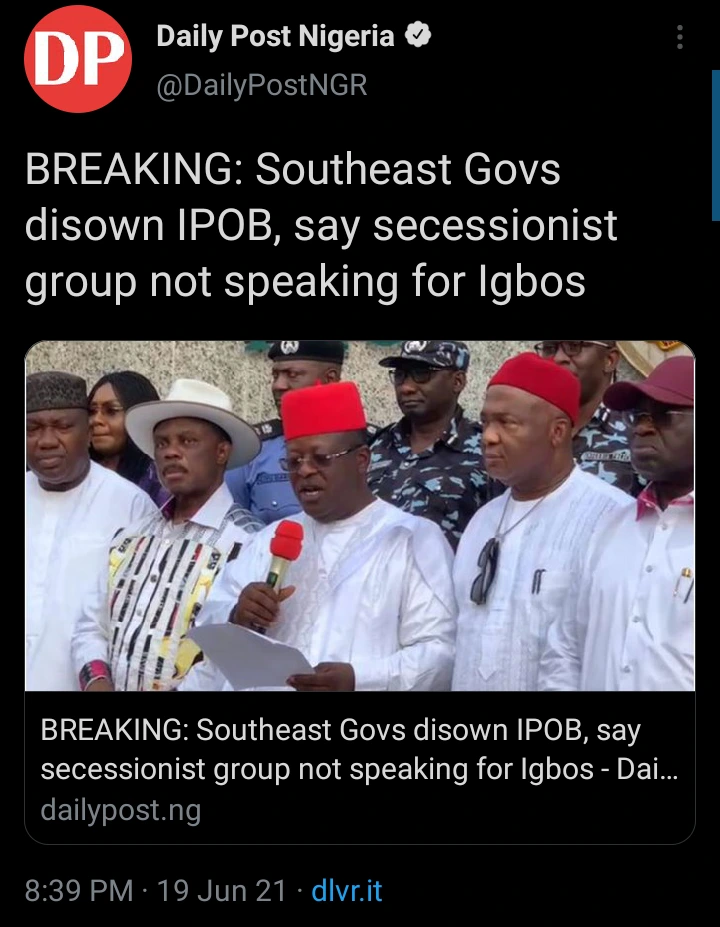 (Photo Credit: Daily Post Nigeria)
The governors who met on Saturday in Enugu State to figure out ways of curbing the current security crisis bedeviling the region condemned all secession agitation in the country.
Chairman of the forum, David Umahi who stated this while addressing newsmen shortly after the meeting, said they believe in one Nigeria
"I am Ready To Open Talks With Nnamdi Kanu" – Gov Ikpeazu
The Executive Governor of Abia State, Okezie Ikpeazu of has declared his willingness to engage with the leader of the proscribed Indigenous People of Biafra (IPOB), Nnamdi Kanu, for peace to reign.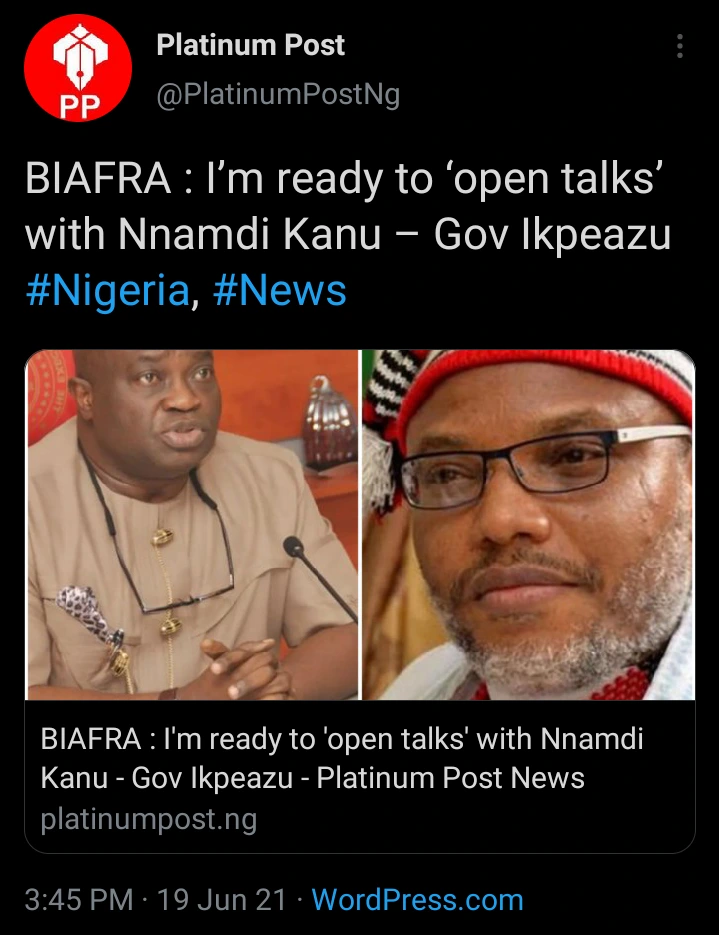 He said he would speak with Kanu, not on the basis of IPOB, but as Citizen Nnamdi Kanu, who happens to be an Abian.
Lagos PDP, APC Lock Horns Over LG Poll
The Lagos State Peoples Democratic Party, PDP, and the All Progressives Congress, APC, have locked horns in the build up to the forthcoming Local Government election in the state.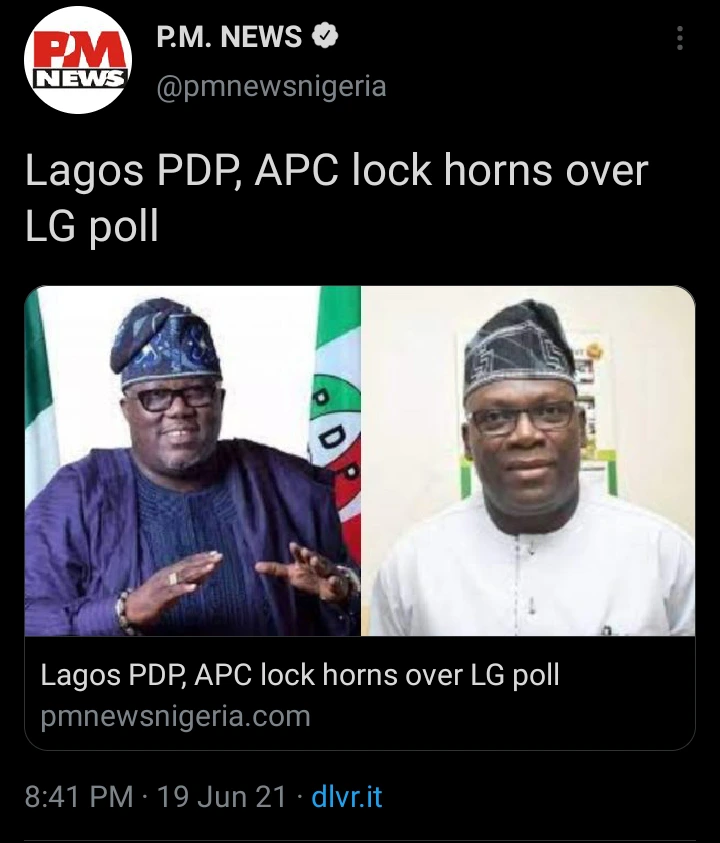 (Photo Credit: PM News)
The PDP had on Saturday decried the destruction of its campaign banners and posters allegedly by supporters of the ruling APC.
Political activities are entering feverish pitches as Lagos State holds council polls in the 20 local government areas and the 37 local council development areas on July 24.