Nigerians Should Be Paying N256 For Petrol-NNPC.
Recently, Kyari (The Group Managing Director of NNPC) said that Nigerians should be paying about N256 for a litre of petrol.
Mr Kyari revealed this information at a stakeholders meeting organised by NNPC to stop fuel smuggling.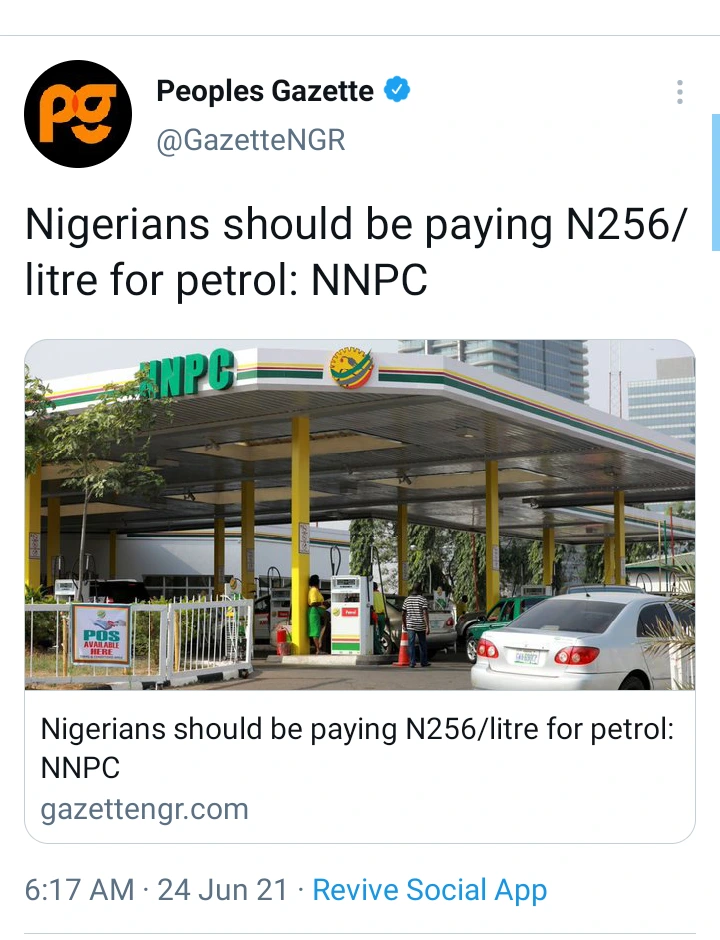 (Photo Credit: Peoples Gazette).
While commenting on the current PMS and subsidy payment, Mr Kyari noted that the petrol pump price should be N256 per litre given the current exchange rate.
According to Kyari, the country cannot sustain subsidy payment with the high volume of daily consumption, pointing out that the country coughs up N150 billion every month on subsidy.
Buhari Meets Gov Matawalle.
President Buhari has met Governor Bello Matawalle of Zamfara at the Presidential Villa, in Abuja.
While speaking to State House correspondents at the end of the meeting, the governor, who visited the villa along with Governor Sani Bello of Niger, said that he updated the president on socio-economic and security developments in Zamfara.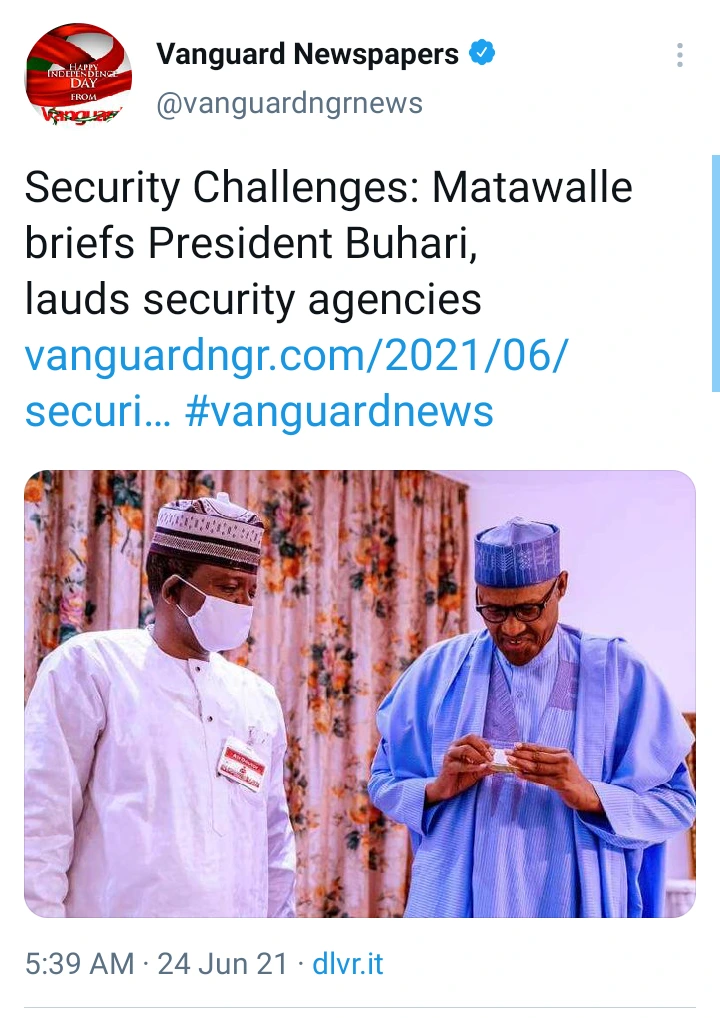 (Photo Credit: Vanguard Newspapers).
According to him, with the new security roadmap adopted by the Federal Government and States in the North West, peace and confidence will gradually find their way back to the affected states.
Northern Youths Endorse Governor Bala For Presidency.
NYLF (Northern Youths Leaders' Forum) has endorsed Governor Bala Mohammed as their presidential candidate in 2023.
However, the group threatened to work against the governor's future political ambitions if he declines the endorsement.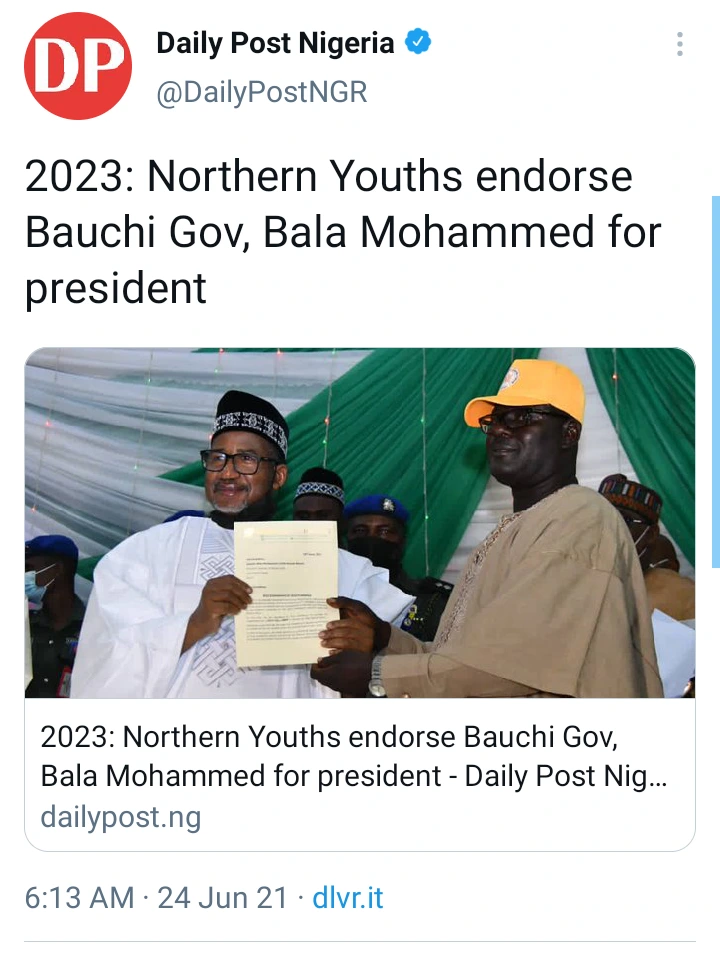 (Photo Credit: Daily Post Nigeria).
Comrade Elliot Afiyo (NYLF National President) revealed that the Forum's endorsement when he led other members on a courtesy visit to the governor at the Government House (Bauchi).
According to the group's president, the Forum (Consisting of 42 northern groups) has taken the responsibility of shortlisting, investigating, screening and endorsing credible candidates for every presidential election by her patrons since 1999.
Also, the group's national president revealed that Governor Mohammed emerged the Forum's preferred presidential candidate for the 2023 presidential election at its 27th delegate conference in Yola, where members voted to that effect.
Ebonyi Resident Confesses To Leading Attack On Police Stations And INEC Facilities In The State.
Recently, Elom Daniel confessed to aiding the attack on a police station and other facilities of INEC in Ebonyi State.
It's important to know that the teenager who is now in police custody confessed that he gave out information that led to the event that claimed the life of a police officer in the state.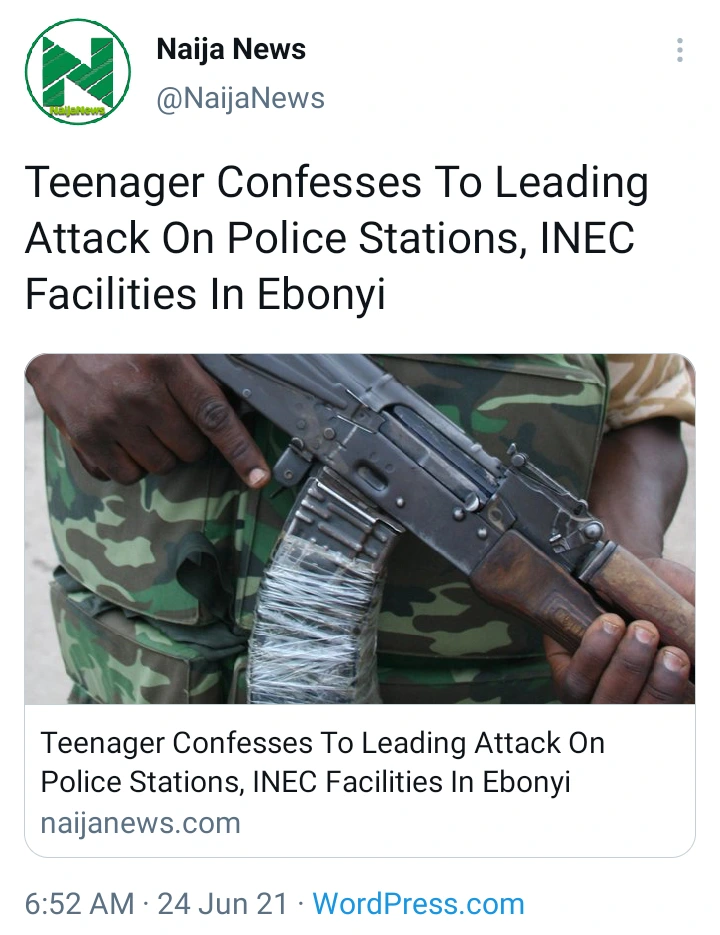 (Photo Credit: Naija News).
While confessing to the events at the headquarters of the Ebonyi State Police Command, Daniel who was arrested over alleged offences pointed out that he has never handled any rifle, but only gave information on places for attacks.