In the world of today, many people do go the extra mile to showcase their dislike or displeasure over a particular person in authority. However, one would not have imagined that someone will go to the extent of slapping his country's President in his face. The France President, Emmanuel Macron has reportedly been snapped in his own country by a member of the public.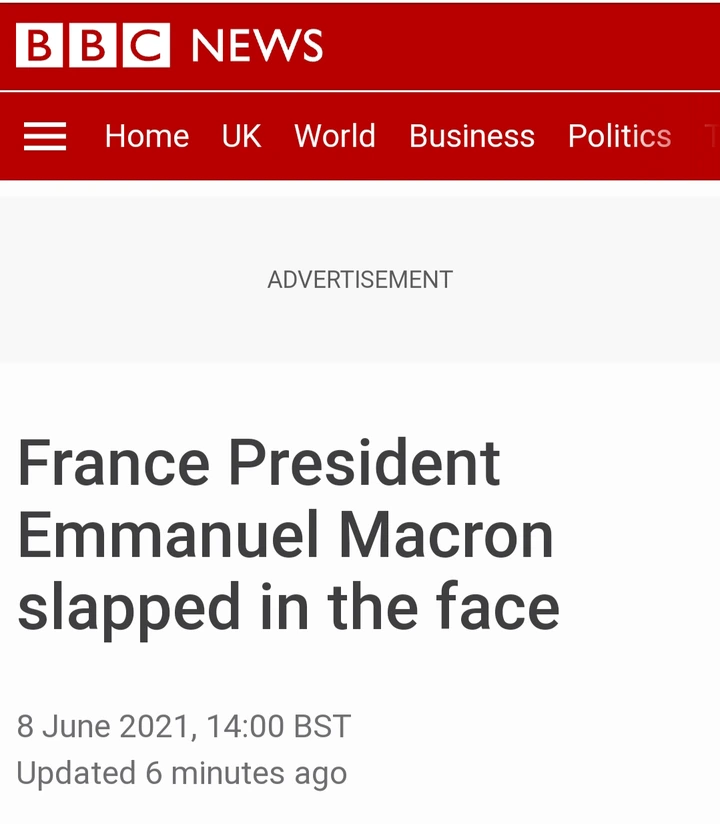 According to a report on BBC.co.uk, Mr Macron who is on official tour of France has been slapped during a visit to the Southeast region of France. In the video clip shared by BBC to this effect, Mr Macron is seen walking up to a barrier on a trip to Tain-l'Hermitage outside the city of Valence when a member of the public reached out for his face and slapped him.
Trade Your Gift Cards, Bitcoin & USDT at the Best Rate
The President was, however, quickly pulled away by the security. According to BBC, as the President is slapped, the words "Down with Macron-ism" are shouted. Meanwhile, France Prime Minister, Jean Castex has condemned that slap, insisting that democracy meant to debate and legitimate disagreement. It must never, in any case, mean violence, verbal aggression and even less physical attack. As reported by BBC, two people have been arrested in connection with the incident.