Although the federal government has continued to regulate social media spaces in a bid to create a safer environment for all Nigerians, some persons have however continued to make inciteful comments daily. As it seems, these individuals who appear to be untouchable have continued to ride on the influence they have gathered over the years to cause commotion in the country.
Today, we will be looking at a comment the former spokesperson to former President Goodluck Ebele Jonathan, Reno Omokri made concerning Sheikh Gumi's defense of bandits as against POB.
Trade Your Gift Cards, Bitcoin & USDT at the Best Rate
If you recall, a notable Islamic cleric, Sheikh Gumi was reported to have defended bandits saying that bandits only kidnap their victims because they are poor while IPOB kills policemen for no reason. The controversial cleric advocated that bandits be rehabilitated and given the good life that they deserve.
Here is a screenshot;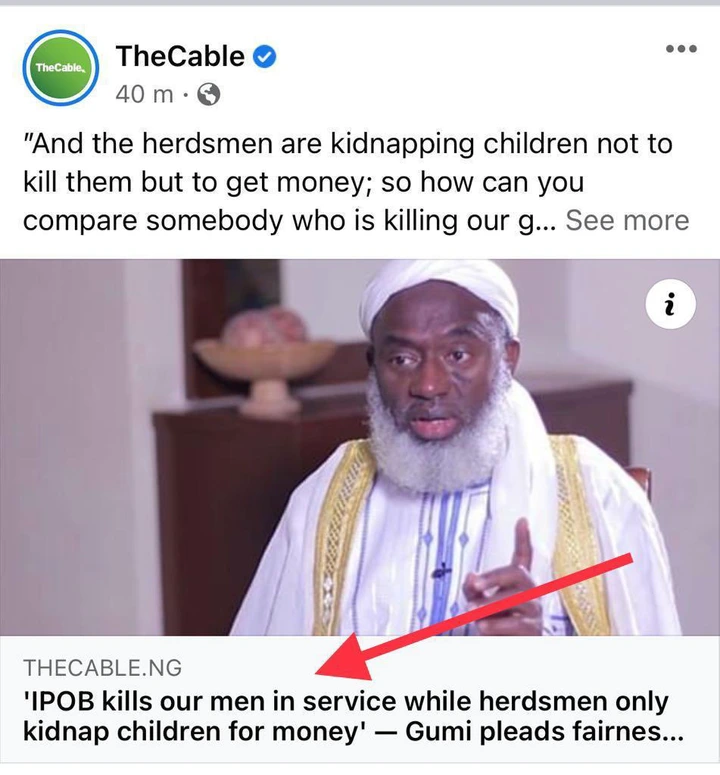 After this report made by "TheCable" (an online newspaper), went viral, Omokri reacted to it. According to the outspoken social media commentator, Shiekh Gumi's comparison is unreasonable and must be rejected by all Nigerians. He argued that herdsmen kill thousands of innocent Nigerians without being remorseful. Omokri maintained that Sheikh Gumi may set Nigeria on fire if not checked by the authorities. Here is what he said, "What is wrong with this man? Herdsmen don't just abduct schoolchildren. Even if that is true (it is not), what is 'only' about that? Herdsmen have killed thousands of citizens in every Nigerian state. Gumi may set Nigeria on fire. How can he say this and walk free?", he said?
Here is a screenshot;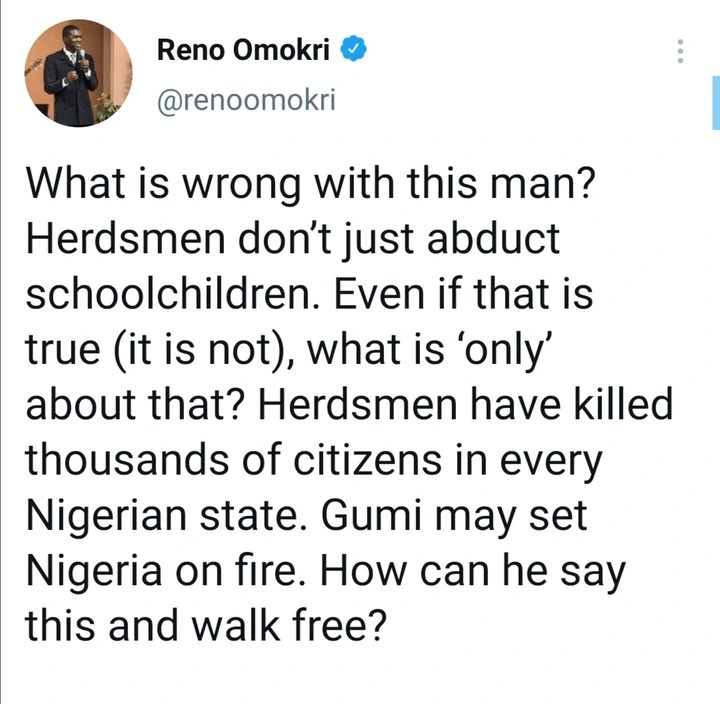 This post has attracted a lot of attention as many Nigerians are reacting to it. The majority praised Omokri for having the courage to challenge the ugly situation going on in the country presently. They however called on the federal government to move into action and stop banditry in all parts of Nigeria.
What is your view on this?.
• Do you think that bandits are causing more harm than IPOB?.
• Do you think that IPOB is causing more harm than bandits?.
• Do you think that Reno Omokri is right?.
Credit: Twitter.com