President Muhammadu Buhari says the majority of the people behind the calls for secession in the country are too young to know the level of damage that happened during the civil war.
According to the president, many of the secessionists are too young and ignorant of the loss of lives and destructions that the civil war brought to the nation.
Trade Your Gift Cards, Bitcoin & USDT at the Best Rate
(President Buhari)
The president who made this statement through his Verified Twitter handle said that he and others who were in the field of war for 30 months will treat the young agitators in the language they will understand.
President Buhari had earlier talked about the security challenges in the country and the incessant attacks on national infrastructures. He also called on the newly appointed Service Chiefs and acting Inspector General of Police to rise up to their responsibilities and fight the security challenge that is confronting the country.
"Many of those misbehaving today are too young to be aware of the destruction and loss of lives that occurred during the Nigerian Civil War. Those of us in the fields for 30 months, who went through the war, will treat them in the language they understand", President Buhari vowed.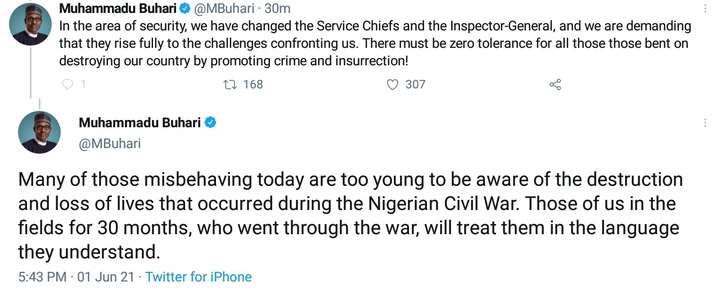 What do you have to add to what the president has just said?
Please share your opinion and also share this post.